Most Beautiful Places in Bali According to English Woman
Bali is one of the most popular holiday destination in Southeast Asia. The reason behind it is it remains unchanged maintaining its aura of ancient Bali. Bali not only showcases its ancient history but it is blessed with divine natural beauty. Here are some of the most beautiful places in Bali.
Uluwatu Temple
In Pura Luhur, the temple is built at the edge of a cliff. Temple was constructed in 11th century, at a height of 70 meters from the Indian Ocean. From the top, you get the breath-taking view of the ocean and especially during sunset. Bukit Peninsula where the temple lies has some of the great beaches in Bali, which are perfect for surfing.
Pura Tanah Lot
An amazing rock formation that is perfect site for the pilgrimage temple is popular among the Balinese people. However, its serenity attracts tourist from all around the globe. According to a local mythology, this temple is part of the ring of seven temples in south west of Bali. Go on foot during the low tide to enjoy the magnificent view.
Lovina
Best sight to witness the dolphin in its natural habitat is Lovina. You can hire boat at the beach during sunset to see the dolphins. However, it may get crowded during peak hours. Lovina itself is great place that is paradise for backpackers. There are some cafes for you to chill out and enjoy the live music with beautiful view in background.
Pura Ulun Danu Bratan
Unlike other temples in Bali, this temple is situated in the midst of a lake. With little cloud cover, surrounding gets so beautiful that you may want to spend some time just ogling at the nature. However, structure of temple is beautiful and to add that its reflection in lake makes it even more beautiful setting.
Ubud
Ubud is like a heart of Bali. Although, it may be packed with tourists, you have so many beautiful things to see such as temples, paddy fields, gardens and parks. A great way to explore it would be to rent a bike. You can also go for white water rafting and other water sports.
Nusa Beach
If you are ready to spend some money, you can get yourself a private space on Nusa Dua Beach. Some high-end hotels could arrange you some private beach space. Most of the honeymooners looking for some privacy love the Nusa beach. It is great place to buy some souvenirs for your family and friends back home.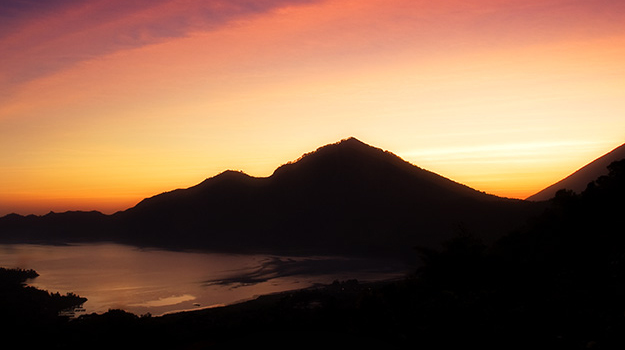 Mount Batur
In Kintamani, Mt. Batur has summit at 1700 meters and it is an active volcano. It is great for the travellers who love hiking or climbing. Most popular is sunrise hike where visitors hike early in the morning before sun comes out. At the top, sunrise is breath taking. Hiking starts around 4 am and path is well marked for visitors. Not much has changed in Bali that has helped to preserve the old charm and natural beauty of Bali. Visitors looking to experience the beautiful temples in the midst amazing natural settings, Bali won't disappoint you.
Author Bio:
Cristiana Victoria is an energetic blogger from Birmingham, UK. She composes articles on travel, wellbeing, auto and account related themes. Starting now she is concentrating on
apply for esta
which provides visa assistance to visitors.
Bangga
0%
Sedih
0%
Senang
0%
Tak Peduli
0%
Terinspirasi
0%
Terpukau
0%