Airports in the Asia-Pacific region are getting to grips with the requirement for urgent expansions to cope with rising passenger numbers, as capacity issues assert themselves.
The combination of fast-developing economies in the region and globalisation means more people are travelling for work and leisure.
This beneficiaries are not just legacy carriers, but also, increasingly, low-cost carriers (LCCs) expanding beyond home markets to capture travellers looking for the "no-frills" option. Some legacy carriers have responded with aggressive marketing, while others are setting up low-cost subsidiaries of their own. In 2011 alone, seven new carriers were unveiled by major airlines in the region.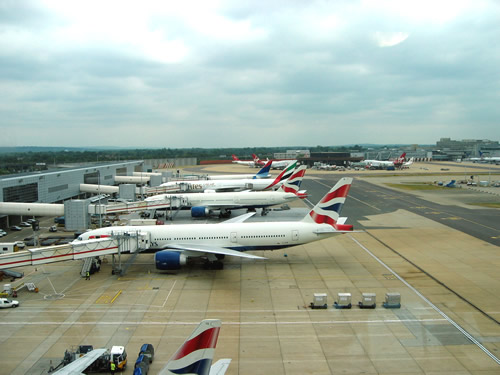 Airports in the region are taking urgent steps to redevelop and expand their facilities and infrastructure to ensure they keep up.
Statistics from Airports Council International show that worldwide passenger numbers rose by 6.6% in 2010 to surpass five billion. Growth is strongest in the Asia-Pacific and Latin America-Caribbean regions, where the increases were 11.3% and 13.2% respectively. Total cargo volumes handled by airports also jumped, by 15.3% to 91 million tonnes in 2010. Experts expect passenger numbers to double in the next 15-20 years.
The impact of the growth of LCCs on airports in the region can perhaps be most clearly seen in Singapore, Malaysia and the Philippines. Changi Airport's budget terminal, first built in 2006, underwent an expansion barely two years later to double its capacity to seven million passengers per annum. Now, Changi is splitting four of its aircraft bays at Terminal 2 to boost handling capacity. The redesign will allow each bay to hold either one widebody or two narrowbodies, instead of only one aircraft regardless of size.
NARROWBODY INFLUX
"With a strong growth in aircraft movements, especially an increasing proportion of narrowbody aircraft operated by LCCs, the introduction of multiple-aircraft receiving stands allows us to optimise the use of aircraft stands," says Changi Airport Group, adding that the usage of terminals is also being reviewed and facilities, including those at the budget terminal, may be upgraded.
Singapore Airlines' newly launched low-cost long-haul subsidiary Scoot will start operating its Boeing 777s out of Terminal 2 in mid-year as the country's budget terminal is unable to handle widebodies. To tear down the budget terminal while there is still room at the three main terminals to temporarily house the LCCs, and construct a new building to match foreseen growth, may be necessary.
In Kuala Lumpur, Malaysia Airport Holdings is building the world's largest low-cost terminal, expected to cost ringgits (M$) 3.9 billion ($1.3 billion) and have a passenger capacity of 45 million. The operator estimates that there will be "continued growth in low-cost travel", with passenger numbers to hit 30 million by 2017 and 40 million by 2022.
But controversy surrounds the project, as anchor airline AirAsia has complained about the escalating construction costs, delays and unsuitable land use, and said an airport with a capacity of 30 million would have been sufficient. The terminal is expected to be operational in 2013, after several rounds of delays.
AirAsia now operates out of a 60,000m2 budget terminal away from Kuala Lumpur International Airport that can handle 15 million passengers annually.
In the Philippines, even secondary airport Clark International is pushing for the construction of a new low-cost terminal "because of demand from budget carriers".
AirAsia Philippines, which chose Clark as its 13th regional hub, has committed to bring in at least five million passengers within the next three to seven years, says the airport: "The current terminal cannot accommodate the expected influx of passengers once AirAsia starts operating." Clark International has capacity for 2.5 million passengers. A proposal for the budget terminal has since been submitted to the government and, once approved, will take three years to build.
These cases reflect how airports are adjusting to new economic realities to quickly build or expand budget terminals to support the growth brought about by the LCCs.
And these LCCs are no longer only focused on their home market, but are also expanding to other countries in the region. In some cases this means collaborating with other carriers - Tiger taking a stake in Seair, or AirAsia working with affiliates in Indonesia and Philippines, for example - to make themselves stronger players in the market. Others such as Jetstar Asia have expanded beyond short-haul to reach destinations in Australia and Japan.
Budget terminals aside, airport operators in the region are also facing capacity woes at their existing main terminals. Jakarta's Soekarno-Hatta International Airport, for one, is handling 44.3 million passengers annually - well over its capacity of 22 million. State-owned operator Angkasa Pura II has proposed to expand and revamp both the airport's domestic and international terminals, complete the construction of its low-cost terminal and build a fourth terminal and a third runway - a project expected to cost rupiahs (Rp) 11 trillion ($1.2 billion). The fourth terminal will accommodate 25 million passengers and 60 aircraft, while the third runway will improve traffic flow to 87 aircraft movements per hour, from 52. If approved, the four terminals together will have the capacity to handle 90 million passengers yearly.
MAXING OUT
But adding a terminal will still be a short-term solution, as the operator expects passenger numbers to hit 87 million by 2025, quickly hitting maximum capacity. "If growth is what we predict, even if the fourth terminal and third runway are approved, there is still a need for an additional airport," says the operator's vice-president of aviation business, Amran Amran, adding that the local government is studying the feasibility of building a new airport in Karangwang.
 Indonesia's situation is in part reflected at Manila's Ninoy Aquino International Airport (NAIA), where capacity of the four terminals is 32 million but throughput has reached 30 million. NAIA-1 alone, designed to handle 4.5 million, already services 7.3 million.
In January, recognising the need to expand and renovate the run-down airport, the government allocated Philippine pesos (Ps) 1.16 billion ($27 million) for the urgent structural and rehabilitation works and for the building of a new rapid-exit taxiway at the airport.
A large chunk of the money will go towards structural retrofitting of the terminal to ensure compliance with national standards, and another to build the taxiway, to allow landing aircraft to leave the runway faster.
The country's Department of Transport and Communications (DoTC), however, is also considering a proposal to sell NAIA, as the airport has reached saturation point and there is little room for expansion. The sale could raise up to $2.5 billion - which could contribute to the costs of building Clark International up as the country's new international gateway. That airport has always trailed behind NAIA and is positioned as a secondary airport, but because of NAIA's capacity issues could become the country's main gateway,
Clark International went through a round of expansion in 2010, and a bidding process for the second phase is already in progress. After the operator sets up a budget terminal, it is to build a second terminal for legacy carriers.
This case shows how LCCs are encouraging the growth of more airports in smaller cities for point-to-point routes. This leads to competition among airports as LCCs look closely at the operating environment and costs of an airport to determine where they fly.
Airports such as Changi International and Hong Kong International, positioned as strong regional hubs, are also seeing changes. With LCCs offering point to point and aircraft being built to fly longer distances nonstop, competition for stopover traffic intensifies.
Cek berita, artikel, dan konten yang lain di Google News