Telkom Indonesia: Going For Growth
By Yianis Mostrous
The Asian telecommunications sector is a top performer in terms of dividend yield, earnings per share growth and return on equity ratios. Asian telecoms offer solid growth and sustainable dividends, providing investors refuge from economic worries and market volatility.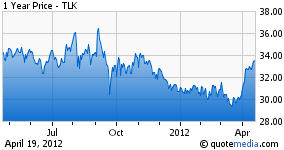 PT Telekomunikasi Indonesia, or Telkom Indonesia (TLK ) is one of my favorites in this emerging market, for long-term growth.
At 237.6 million people, Indonesia has the fourth-largest population in the world of any country. Indonesia is a global growth leader and should remain so throughout 2012, because of its political stability, high consumer base and a thriving economy driven by manufacturing, construction and tourism.
According to the iGR consultancy, the total number of global mobile subscribers will reach approximately 7 billion by 2015, with Asia accounting for 65 percent of the total, representing the biggest region among world mobile markets.
It's the perfect environment for a well-positioned company such as Telkom Indonesia.
The telecom industry in Indonesia historically was a duopoly dominated by Telkom Indonesia and Indosat (IIT ), with Telkom Indonesia controlling the domestic market and Indosat international calling.
Around the turn of this century, telecom deregulation in this sprawling archipelago nation sparked a period of high growth. Every year between 2005-2010, mobile cellular telephone subscriptions increased by 36 percent and fixed lines grew by 18 percent. Last year, cellular subscribers reached the 250 million mark.
Telkom Indonesia's subsidiary Telkomsel is the market leader in cellular, with more than 104 million customers. Together with Indosat and XL Axiata Tbk PT (EXCL: Indonesia), it controls 70 percent of the industry. More than 90 percent of Indonesian cellular subscribers are prepaid customers. Indonesia still doesn't have number portability, which makes "free minutes" and other marketing offers major ways for telecoms to retain customers.
According to the Indonesia Cellular Telecommunications Association (ATSI), the average revenue per user for 2011 was IDR20,000 (USD2.18), bringing total industry revenue to USD6.5 billion. Estimated revenue from the industry's fixed-line segment reached USD1.1 billion.
Fixed line penetration in Indonesia had been low for years but started reviving in 2007. Since then, it has been growing by about 20 percent. Telkom Indonesia still enjoys a near monopoly in the fixed line segment, because of its extensive coverage across the country.
The expansion of fixed lines has boosted broadband services growth; it now stands at around 1 per 100 people. Although a low per capita number by developed country standards, it represents a growth rate of more than 30 percent per year. Indonesia is now home to more than 50 million Internet users and the world's third-largest market for Facebook (FB ) (see chart, below).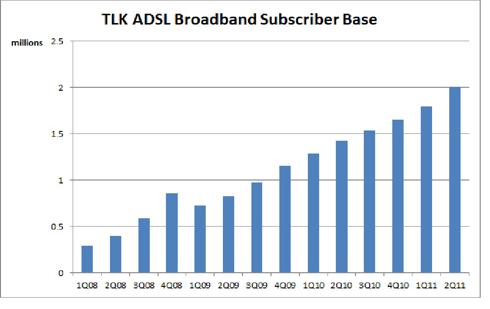 (Click to enlarge)
Source: ATSI
Telkom Indonesia in March reported that fourth-quarter net profit rose 2.3 percent. Revenue in 2011 was up nearly 4 percent, as the company added 13 million cell subscribers to surpass 104 million. New subscribers are the main source of the company's revenue growth.
About 60 percent of Telkom Indonesia's capital expenditures last year went to Telkomsel. The parent company will maintain the same level of commitment this year, with about USD1 billion slated for investment in its cell unit, mainly for 3G data and network infrastructure.
A significant portion of Telkomsel's growth derives from the country's Sulawesi province. Located between the islands of Borneo and Maluku, Sulawesi is the world's 11th largest island with a population of 17 million, equal to 7 percent of Indonesia's population.
Sulawesi is one of Indonesia's fastest-growing provinces, but its mobile phone penetration rate remains relatively low, providing plenty of growth opportunities for Telkomsel. Indeed, Sulawesi has emerged as one of the country's growth centers, surpassing the saturated market of Java.
Telkomsel controls 87 percent of the North Sulawesi market, while also commanding an 89 percent share of the Eastern Indonesia market that includes Sulawesi, Maluku and Papua. The region accounts for around 13 percent of Telkomsel's total mobile subscriber base.
On the operating side, Telkom Indonesia has been cutting costs by forcing the early retirement of employees, bringing the total workforce below 20,000 from above 25,000 in 2007. This trend will enhance margins and mitigate the company's perennial problem of wage inflation.
Management also is proposing an increase in the stock's dividend payout ratio from 50 percent to 65 percent for 2011, and a steady increase from 2012 onward. The company's solid cash flows and low debt levels will help the company's case when regulators review the proposal. The government still owns close to 53 percent of Telkom Indonesia and has a say in major management decisions.
The rapid growth of Asia's telecom industry during the past decade has attracted investments from foreign telecoms. Notably, Singapore Telecommunications Limited (SGAPY.PK ) owns about 35 percent of Telkomsel, while Qatar Telecommunication Company (DSM-QTEL) owns 65 percent of Indosat.
Telkom Indonesia's stock trades at a reasonable valuation of 11.7 times expected earnings. The shares offer a 5 percent dividend yield, with a 3 percent share buyback program.
Bangga
0%
Sedih
0%
Senang
0%
Tak Peduli
0%
Terinspirasi
0%
Terpukau
0%